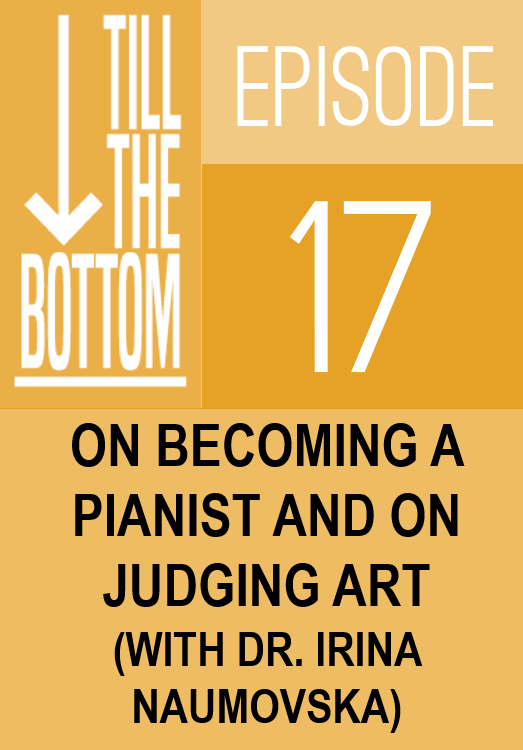 First of all, find out more about our gifted guest at: http://www.irinanaumovska.com/
In Episode 17 of Till The Bottom, Dr. Irina Naumovska joins us to take us on a tour along the path towards becoming a professional pianist. Dr. Naumovska tells us how a musical education, of the serious kind, starts almost right after stepping out of the cradle. The fisrt half of the Episode is all about her story. How her unwavering passion for the piano spared her from going through the all-too-common career choosing crisis. She talked to us about the early wanderings imposed on the life of an aspiring professional musician. Dr. Naumovska explains to us how a musical performance is evaluated and which are the salient elements of music that are rated during an evaluation. The discussion about rating music takes us to a broader conversation about judging art in general. The second half of the Episode is all about how subjective artistic judgement is and, to our taste, how subjective it should be. We speak about the transition from romanticism to modernism and the avuenues that this evolution opened for artistic experimentation... as well as for an explosion of subjectivity. We talk about kitsch, the faking of authentic emotion. We speculate about where is the value in art, the object? the concept? the subject?... all of that and more in Episode 17 of Till The Bottom, enjoy!
Erratum: The author (composer???) of "4′33″" is John Cage and not Charles Ives. Thanks to Dr. Naumovska for quickly pointing this out!
Find us in:
Our website: https://tillthebottom.com/home/
Our YouTube channel: https://www.youtube.com/channel/UCMXM2Vc0d21wjDt5chP26sQ?view_as=subscriber
Our Facebook page: https://www.facebook.com/Tillthebottom/
Follow us on Twitter: https://twitter.com/Tillthebottom